Monthly Archives:
December 2015
Merry Christmas and Happy Holydays!
I want to introduce you my new crocheted bag:)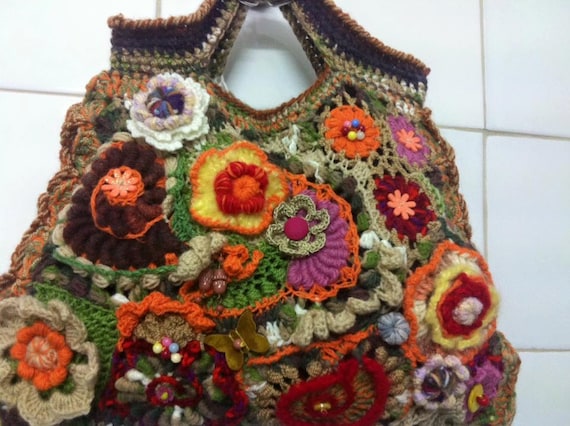 #freeform #crochet #bag #purse
For more pictures follow the link from the first picture.
And now it's time for winter sales!
Etsy: use coupon code wintersales at check out for a 25% discount, available until January, 31. All items will be shipped after January 6.
How my shop looks these days:
And more on links (just click a photo and it will redirect you to my shop, or the direct link on the right of this page).
For alittlemarket.com: sales start on January 6, without any code, same discount already set it!
For my latest work and wips, you can check my FB page, or we will meet on Christmas. Now I have to go, I have a lot to do:(((
#crochet #beading #sales #etsy #handmadefor sale
Hi everyone! I didn't post lately but I worked hard: 2 freeform hats with flowers and spirals, and a skirt, a lattice bracelet and more.
Let me introduce you my hats first:
this one is sold, somewhere in transit. It is a double #freeform #crochet #hat, the back side is dc green.
And the second one, same colors, different shape and flowers:
this one is still available in my etsy shop here. I will double it, I think.
It was really fun to make them. How to do it? Hmm, first decide the color palette and the shape. After these steps, just be crazy, play with yarn, anything is allowed, no more rules. For tips and tricks use any available resource: some free resources are on internet: embellishments on Renate Kirkpatrick's blog or on Pinterest.
Now my crazy #winter #crochet #skirt:
available here and in my etsy shop.
And a pretty lattice #bracelet, red, obvious, for Christmas:
 available on my a little market shop only:here.
About my mittens and some little snowflakes feel free to brows my shops and/or my old posts:) I will be back soon I hope with news!